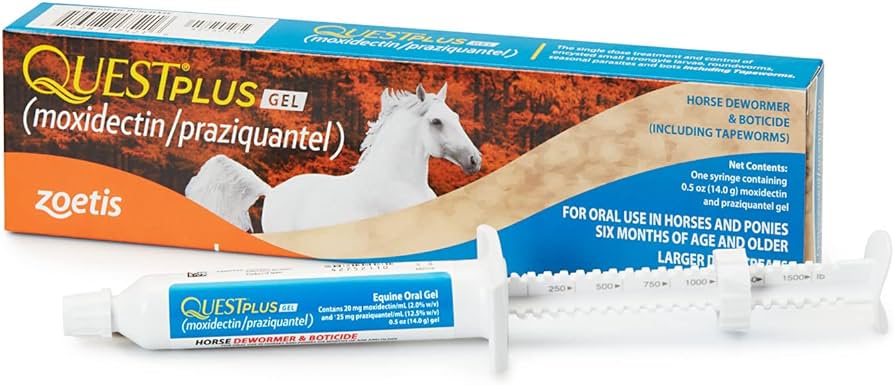 Quest Plus
---
In stock, ready to ship

Inventory on the way
Quest Plus Gel is a broad-spectrum dewormer targeted to treat encysted small strongyle larvae and bots, large strongyles, roundworms, pinworms, hairworms, stomach worms, and tapeworms. Recommended for late grazing season use, the active ingredients moxidectin and praziquantel are a treatment of choice according to the American Association of Equine Practitioners.*

The unique gel formula is given orally and dissolves on the tongue to help make deworming easy.

Quest Plus Gel Horse Dewormer is packaged in a patented ready-to-use Sure-Dial syringe that is calibrated in 50 lb increments, up to 1,500 lbs. This enables the administration of the recommended dose level of 0.4 mg moxidectin/kg (0.18 mg/lb) and 2.5 mg praziquantel/kg (1.13 mg/lb) body weight by choosing a setting consistent with your horse's weight.

Safe for use on horses, ponies, and foals 6 months or older, one dose suppresses the production of small strongyle eggs for 84 days. Approved for use in breeding stallions and pregnant/nursing mares.

Contains 1 0.5oz Sure-Dial Syringe. 20mg Moxidectin, 125mg Praziquantel, Made in Spain.