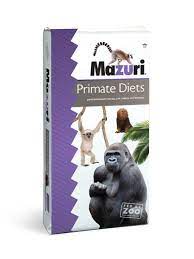 Mazuri Leaf-Eater Primate Diet (5M02)
---
In stock, ready to ship

Inventory on the way
Mazuri® Leaf-Eater Primate Diet is a complete life-cycle primate food formulated to meet the needs of leaf-eating primates such as langurs and howlers. These high-fiber primate biscuits can also be fed to other species of primates such as gorillas and orangutans when a high-fiber diet is desired.
Designed to be fed with supplementation - Allows for natural feeding behaviors by the addition of species-appropriate food items.
Meets NRC recommendations for most nutrients - Except protein, sodium and chloride when fed at 50% of the diet.
High Fiber - Contains multiple sources of soluble and insoluble fiber.
No added sucrose or fructose - Helps maintain dental health and may be appropriate for diabetic and pre-diabetic animals.
No added wheat product - May be appropriate for animals with wheat sensitivity.
Natural source vitamin E and stabilized vitamin C - More bioavailable and stable forms, respectively.
Contains flaxseed - Source of Omega-3 fatty acids.